Modern desktop puts the power of the cloud in the hands of both end-users and IT

The makeup of a modern desktop is simple: Windows 10 with Office 365 ProPlus—which are built-in and driven by the cloud so that their scale, compute, automation, intelligence, and flexibility can simplify your IT. Supporting your end users with the Office ProPlus apps is a fundamental component of a modern desktop. These are the only apps with artificial intelligence (AI) that can do the hard work of security while simultaneously improving and beautifying documents and presentations.

An infographic shows the modern desktop: Windows 10 plus Office 365.
1. Cloud-connect what you have today

A powerful way to begin cloud-connecting your existing infrastructure is to link your on-premises Active Directory with Azure Active Directory (Azure AD).
This process is simple and it adds significant flexibility, security, and mobility to your organization's identity.
I also strongly encourage you to cloud-connect ConfigMgr with Intune. The process takes #Just4Clicks and, once enabled, reaps immediate rewards including superior visibility into device health, as well as access to actions such as remote wipe and security features like conditional access.
For more information, you can watch the #Just4Clicks video on our Microsoft Cloud channel.
You can also get your files up into the cloud with OneDrive Known Folder Move. This simple process immediately gives you protection from ransomware, and it improves real-time collaboration.
Find more information in our Tech Community blog, Migrate Your Files to OneDrive Easily with Known Folder Move.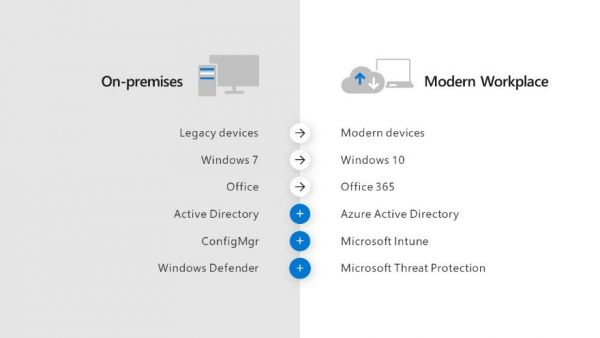 2. Gain superior visibility and control

One of the many announcements we made at Ignite was the work we've done to merge 20+ separate web consoles into a single point of entry called the Microsoft 365 admin center.
This consolidation is a part of our focus on integrated simplicity, and it features seven specialist workspaces for security, compliance, device management, and more.
I encourage you to check out the preview at admin.microsoft.com
Another simple action with big benefits is enabling conditional access so that you can better understand how corporate data is being accessed by personal devices. Configuring conditional access is easy and it dramatically increases your security posture while also reducing the risk of both intentional and accidental data leakage.

In addition, to support for the Win32 app deployment in Intune, we also announced Intune security baselines. These baselines are pre-configured (but still customizable!) and published every month. I strongly encourage everyone using Intune to enable these as soon as possible.
More information is available in Using security baselines in your organization.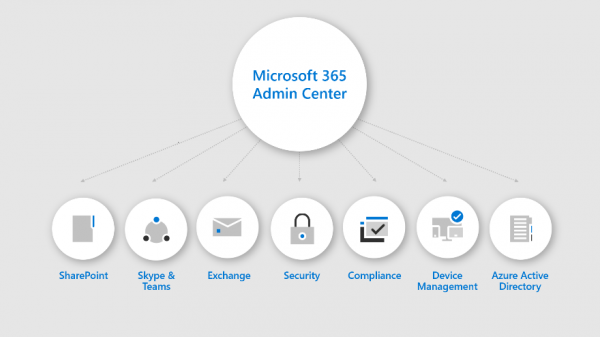 3. Shift to a modern desktop

For years, engineers at Microsoft have dreamed of building a service that learns from the millions of devices, billions of authentications, and trillions of signals in the Microsoft Cloud—and then apply that information to the estates of our customers in real-time. Desktop Analytics is the realization of that dream.
Desktop Analytics is one of the most powerful tools we have ever created—and it is custom built to give IT teams the insight and information they need to deploy, manage, and service apps and devices.
Desktop Analytics offers a tightly integrated, end-to-end solution that automates the mountain of work required to validate the compliance of your hardware, drivers, applications (both 3rd party and your own internally developed), as well as the Office add-ins. This doesn't just eliminate hundreds of hours of work for IT teams, it wipes out thousands of hours otherwise spent on manual compliance checks which have chronically stolen your bandwidth at a time when you could be pursuing strategic projects that make a lasting impact on the way your company operates.
Desktop Analytics is currently in private preview (public preview will be announced soon), but you don't need to wait to use it: The Windows Analytics service (which is part of Desktop Analytics) is available to use right now. I think you'll be really surprised by how much Windows Analytics will simplify and improve your ability to manage devices and apps, as well as simplify the task of upgrading to Windows 10.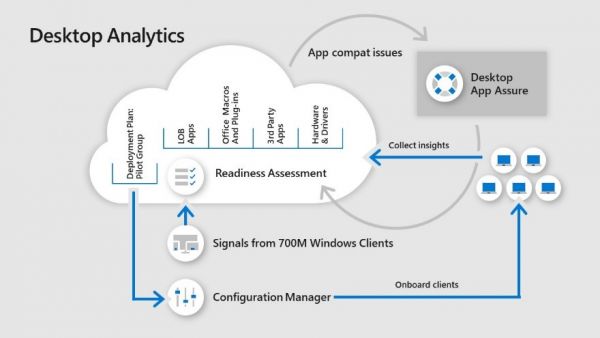 I also want to highlight how simple and valuable it is to shift from Office perpetual to Office 365 ProPlus with the Office Customization Tool in ConfigMgr. This is proof of how easy it now is for your on-premises infrastructure and the cloud to work together to reduce the complexity of what would otherwise be arduous manual tasks—e.g., migrating from MSI deployments of Office perpetual editions in favor of Office 365 ProPlus Click-to-Run.
Only the Office ProPlus apps offer the AI required for these scenarios.
As you plan for the future of your organization, prioritize finishing Windows 10 upgrades before January 2020. Both Windows 7 and Office 2010 will reach the end of extended support in 2020, and based on our data, we can see that there are now more devices in the enterprise running Windows 10 than any other previous version of Windows.
If your Windows 10 deployment hasn't also reached the halfway mark yet, now is a great time to reach out to our FastTrack team for help with upgrades, migrations, and (as of Ignite) application compatibility as part of the newly announced Desktop App Assure program.
An infographic showing the rate of Windows 10 enterprise adoption.
More information is available in Helping customers shift to a modern desktop.