Are you thinking to expand your business without ready to pay for more employees? OR Are you looking for ways to turn off projects because of incapable IT needs?
If yes, then the best cost-effective solution is "MICROSOFT OFFICE 365" which can help you to stand above all your business competitors with faster and user-friendly services.
Why SMB owners don't opt to choose office 365?
Lack of resources
Lack of IT personnel
Lack of Expertise to migrate data to the cloud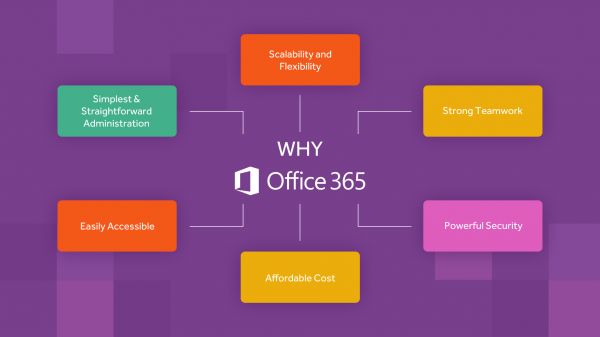 How Office 365 can be beneficial for SMB Companies?
Some of the major benefits, why you must opt for office 365 are as below:
Simplest & Straightforward Administration
Sometimes maintaining software is very much complicated. But for Microsoft office 365, it ensures simplified functioning such that all the employees have the same version of the Microsoft app and automatic update for all together.
It is easily accessible from any device 24/7. Microsoft Office 365 also takes care of data backup, recovery & security of all the devices.
Easily Accessible
With the help of office 365, you can easily synchronize your mobile devices for contacts, calendar, office files via ONE DRIVE for Business where they can edit word, excel, PowerPoint, etc. files through their smartphones anywhere, anytime.
Scalability and Flexibility
The best part of Microsoft office 365 is you can add or delete users simply by adding or subtracting a license that you can be committed on monthly basis. It also gives you the flexibility to mix & match applications as per your business needs.
Strong Teamwork
Office 365 also enables your staff members to interact via instant messaging and work collectively on documents & files in SharePoint. With help of share point, one can quickly share files and set their own document management & sharing criteria. It also offers a video delivery solution with built-in encoding & management tools to smoothen the process of uploading video & building video portals. The video is stored and streamed from Microsoft Azure using Microsoft's global network.
Powerful Security
Microsoft office 365 has robust security and ensures the safety of all the databases. It scans all your emails, messages & documents for spam or any virus. All the security features you will find built-in and if by chance you lose any smart device you can wipe all data remotely.
Affordable Cost
For all your business needs, you can select any plan as per your users. Microsoft office 365 comes at an affordable cost with maximum features just starting from 15aed/month.
For any technical assistance, GS IT Technical Team is always ready to help you and suggest the best Microsoft office 365 plan
To speak to our team contact us