What is data cabling?
A data cabling system is a crucial part of any business. It is the backbone of the IT network in a company. It carries out data transfer in the organization. It makes the identification of network elements easier. A proper data cabling solution helps you connect to every device in the organization. Devices like phones, printers, monitors, and servers make a part of this network.
In an office environment, with multiple devices and security concerns, we have to follow a set of international standards during data cabling. Providing a framework by following a set of principles leads to structured cabling. Thus, an organized approach to data cabling results in structured cabling.
A structured cabling system is a data cabling that employs some common networking tools and connection techniques. In the US, ANSI/TIA-568-C is the standard by ANSI (American National Standards Institute) for telecommunications cabling for commercial buildings. The European standard, ISO/IEC 11801 Ed. 2, is the International Standard on Information Technology Generic Cabling for Customer Premises. It helps to create a standard set of procedures in cabling procedures around the globe.
A robust structured cabling structure is vital for a future-proof and scalable cabling system. The advantage of structured cabling is that it delivers predictable performance. It imparts flexibility in device replacements and addition. It also offers room to accommodate changes and moves. It optimizes system availability, incorporates redundancy, and makes the system future-oriented.
Types of Data Cables
There are three types of Data cables. Let us have a detailed look into it in this section.
Fibre optic cables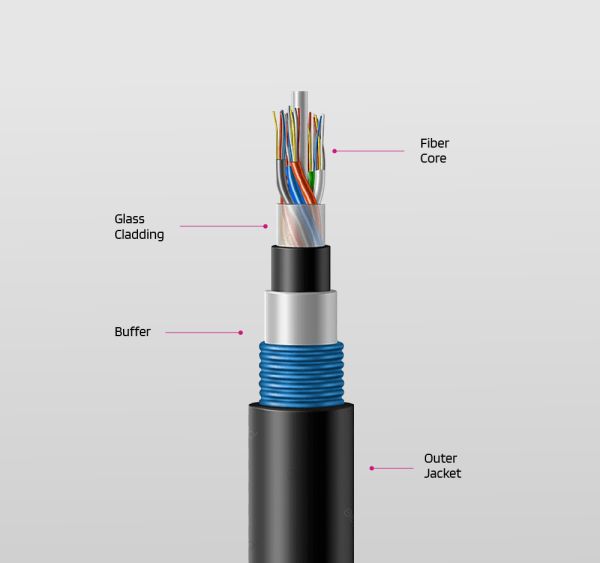 Fibre optic cables are cylindrical glass fibre strands that send data via visible light. It has a glass core with an insulator coating that minimizes interference. Fibre optic cables find their place in backbone networking and long-distance telecommunications.
It uses total internal reflection to transfer the information. The signal loss is minimal and possesses high bandwidth capacity.
It is the latest network cable with greater capacity than any other electrical communication connection. Optical fibre splicing is the process of joining two fibre optic cable pieces together. Mechanical splicing and fusion splicing are further divisions of optical fibre splicing.
Coaxial cables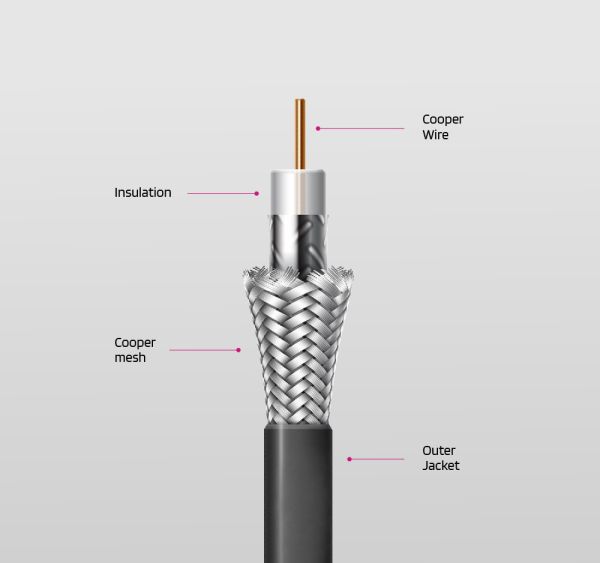 They are copper cables consisting of an inner conductor separated from the outer layer by an insulating dielectric. They are essential in high-speed data transmission. It is popular due to its low signal losses compared to other cable types.
There are two specifications for coaxial cables- thick and thin coaxial cables. The thicker coaxial cables are rigid and survive harsh environments better than their thinner cables. They also have higher attenuation at longer distances. But the thinner coaxial cables are more flexible.
Twisted pair cables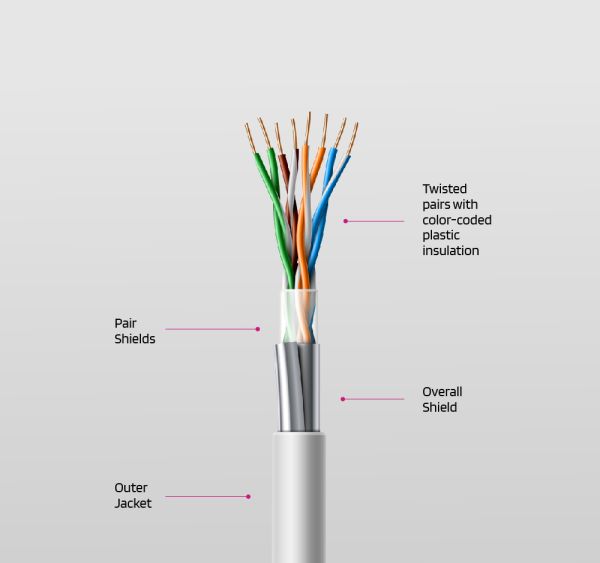 A twisted pair of cables constitute a pair of insulated copper wires. The twisting cancels the interference caused by electromagnetic radiation. It is considered ideal for data transmission and networking applications.
Importance of structured data cabling
1. Simplified Management
A structured cabling system helps you organize and streamline your IT infrastructure. As companies use many IT equipment and devices, it makes organizing easier. A well-structured cabling system simplifies your processes within an organization by facilitating the interconnection of phones, desktops, laptops, copiers, and printers. It maintains all the connections intact. Thus, it makes office equipment more manageable. There is no cable clutter in the room. It also reduces tripping due to the wires. Structured cabling controls short circuits and electrical fires. It also reduces the extent of electrical hazards.
2. Extremely Cost-Effective
Even with most modern technologies, nothing has replaced structured cabling. Investing in this cabling system will benefit you in the long run. It keeps the system future-proof. It minimizes all the chaos that can occur with an unmaintained system. It cuts down all the extra costs in unforeseen problems. Invest in fully equipped and well-installed structured cabling to keep your organization competitive. It speeds up routine tasks and modifications while providing intangible advantages such as increased productivity and deployment of crucial enterprise applications. If you decide to move your structured cabling systems, it won't be a problem because the infrastructure is well organized.
3. Minimize Network Downtime
A poorly organized cable network makes the identification and resolution of issues time-consuming. Because different devices link to various networks, it becomes difficult to locate the problematic device. Moreover, disorganized cabling creates confusion and errors. When an issue arises and, communication lines go down, it becomes extra challenging to diagnose problems because of tangled wires. In such circumstances, only a structured cabling system is reliable. It improves infrastructure and fastens the repair process. With well-maintained network cabling in place, there is no or minimal system downtime. The chance of risks is low. In case of any threats, terminating a section is possible without affecting the rest of the network.
4. Future Proof
Structured cabling systems expect future requirements and keep room for advancement. This makes it ideal for supporting company growth. A structured cabling adapts to changes in the corporate world. In structured cabling, adding new devices to the network is simple. No complications or adaptability issues limit you from adding new elements to the network. By investing in voice and data-structured cabling, businesses can communicate instantly and continually with their customers all around the globe.
5. Organized
Most organizations struggle with tangled groups of phone cords, ethernet cables, and fibre-optic cables. It scatters across the office. It makes an unappealing mess. It also reduces risk by keeping wires out of harm's way behind walls and ceilings. A well-arranged and coordinated system enhances the presentability of the office environment. The office looks neat and clean, promoting the aesthetics of the room. It is thoroughly sealed and checked at proper time intervals. Thus, structured cabling provides an attractive, professional appearance for your business.
6. Improved Safety
The structured cabling system has no potential risks. There are minimal chances of systems getting hacked or corrupted. It can be addressed effectively by implementing structured cabling systems with cybersecurity solutions. You can also rest assured as it reduces the risk of short circuits and fires. It reduces wear and tear, heating issues, and overloading to an extent. During a hazard, it lessens the threats and enhances the safety of devices in the network.
7. Flexible and Adaptive
Structured cabling systems are adaptable, providing precise and high bandwidth. It makes networking fast and robust. You don't need to worry about your business demands like video conferencing or voice conversation over audio lines. The system handles all the tasks with no downtime. Moreover, there is always room for extra functions and features. It saves your organization money and time. It improves communications without revamping the current cabling system. Furthermore, moving and upgrading network communication equipment becomes manageable. Structured cabling is adaptable to all changing business needs.
Why a right structured cabling partner is necessary
Over nine years of experience in structured cabling, GS -IT is well versed with all the problems you will face with no network cabling or a less maintained one. We understand your problems better. With hands-on experience in real-life issues, we can provide the best solutions for your concerns.
With experienced and trained technicians by your side, you can get customized structured cabling solutions for your business. You can also avail of post-installation services to maintain your cabling solution. It helps to retain the full-throttle productivity of the structured cabling.
We are the leading structured cabling service provider in the Dubai market. We deliver our services in and around UAE. Count GS-IT as your service partner and receive structured cabling services from an expert team with extensive field experience. Contact us today to get a free consultation and quote.